Find my Fit
Getting the perfect fit for you.
Finding the right fitting bra, especially during pregnancy can be a game changer, and guess what, it's a super simple thing to do! During pregnancy and nursing, our boobs go through some pretty big changes, so we're making it simple for you to figure your size out, again and again whenever you see fit.
From bra sizing calculators (that do all of the hard math for you) to understanding sister sizing and any bra fit symptoms you may have, there's never been a better time to get that perfect fit. Let's find yours today.
Fit tips
How should a nursing bra fit?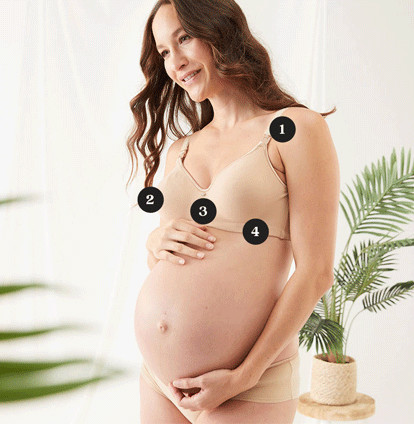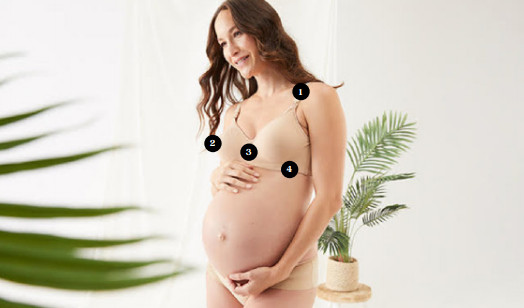 When trying to determine if you're getting the best fit from your bra, it's important to consider the following:
1. Straps:

Your straps should feel secure but comfortable on your shoulders, so adjust accordingly.

2. Cups:

Make sure your breasts fit comfortably within the cups, with no overflowing or cup gaping.

3. Centre front:

The centre point on the front of your bra should sit flat on your chest. It should not dig in or sit elevated above your chest but rather comfortably on top.

4. Band:

Your band should sit comfortably running straight around and flat on the body.
If your bra just doesn't fit like it should, try our bra calculator to find your recommended size or head on over to our fit troubleshooter or fit FAQs for additional help. If you're still unsure, you can always chat to one of our fitters on either support@cakelingerie.com.
Bra Size Calculator
How to measure myself for a nursing bra?
At Cake we're committed to ensuring the fit of our products, so in order for you to find the maternity and nursing bra size that works best for you, we recommend following the simple 4 steps below or using our easy Find my fit quiz. Alternatively, you can have a look at our helpful videos for all things fitting, especially while pregnant.
Please note that fitting yourself can be tricky, especially while pregnant, so where possible we advise having a professional bra fitting in store. Breast changes can happen quite rapidly during pregnancy so it's important to keep that in mind when detemining your size as well as when ordering less-flexible styles.
Things you'll need:

Measuring Tape (Inches)

Non-padded bra

Mirror (Optional)
Step 01:

Measure your underbust (band)

While wearing a non-padded bra, measure around the band of the bra. Note: you are going to take your measurements using our universal sizing system, which we will then convert for you in Step 4.

The measuring tape should be level and snug. Round to the next whole number. For example, if you measured 27.4 inches, then round down to 27. Your Universal Band Size is therefore a 30.

Then refer to the measurement groupings below, to determine your generic band size. Remember your measurement in inches as you'll need it again.

Under Bust Measurement (Inches)
26 - 27
28 - 30
31 - 33
34 - 36
37 - 38
39 - 40
41 - 42
43 - 44
YOUR UNIVERSAL BAND SIZE IS:
30
32
34
36
38
40
42
44

Step 02:

Measure your overbust (cup)

Now measure around your breasts where they are at their fullest—using the same care as in the previous step.

Round off to the next whole number. For example, if you measured 34.6 inches, then round up to 35 to get your bust size. Remember this number.

Step 03:

Calculate your cup size

Now deduct your 'CUP' measurement (in inches) from your 'Universal Band Size' measurement (in inches) and refer to the table below to work out your 'Cup Size'.

Example: 35" (CUP) – 30" (BAND) = 5 which is a DD cup - therefore your recommended size is a 30DD.

| If difference is (INCHES): | INCHES | 0-1 | 2 | 3 | 4 | 5 | 6 | 7 | 8 | 9 | 10 | 11 | 12 | 13 |
| --- | --- | --- | --- | --- | --- | --- | --- | --- | --- | --- | --- | --- | --- | --- |
| Your universal cup size for this exercise is: | US/CA/EU | A | B | C | D | DD | E | F | FF | G | GG | H | HH | J |

Step 04:

Convert your findings

Note:

Select your region below and enter to the universal band & cup size you measured (eg 32FF). Then click the 'Show me my cup & band size' to reveal your measurements.

Show me my cup & band size
HELPFUL VIDEOS
Everything you need to know
Nursing bras: how to get the right fit for you.
1 min, 09 seconds
What Should I Look for in a Maternity Bra?
0 min, 43 seconds
A comprehensive guide to maternity & nursing bras.
14 min, 12 seconds
Do I need to purchase a maternity bra?
0 min, 39 seconds
How to tell if my bra properly fits?
1 min, 0 seconds
Fit faqs
Things we're commonly asked
When is the best time to buy a maternity bra?
You can buy maternity bras as early on post-conception as you'd like. In the first few weeks to months, breast tenderness is real, so we recommend looking for wireless and seamless styles. If you're looking to get more wear out of your bras and are looking to breastfeed, we recommend purchasing nursing bras instead.
When's the best time to buy a nursing bra?
You can buy nursing bras at any stage of your pregnancy, then simply begin using them for nursing once bub is born. If using solely for nursing, we recommend fitting at approx. 8 months of pregnancy.
What are the common fit issues to avoid?
1. The back band is too tight or too loose
2. Straps are too loose (slipping off the shoulder) or too tight (cutting in)
3. Cups are too small (restricting the breast tissue) or too big (gaping)
If you have any of these issues, check out our fit troubleshooter.

How can I tell if my nursing bra is fitted correctly?
The band will sit horizontally around your body and not ride up, fitting firmly but not too tight. Your breasts should be fully encased in the bra cups, not spilling out the top, sides or bottom of the cups. Lastly, there shouldn't be any wrinkling in the fabric or gaping in the cups.
The bra cups should be smooth and the wire should sit neatly under and around the breasts. Most importantly the bra should feel comfortable, that's the #1 indicator of a good fit.
How many nursing bras do I need?
We recommend the three bra rule: one to wear, one in the wash and one in the drawer.
What's the best nursing bra for me?
This depends entirely on your lifestyle and your personal preference. Seamless and wireless nursing bras are ideal sleep, lounge, light activity or transitional bras, providing comfort and stretch for growing breasts.
Contour bras are ideal for the T-shirt wearers who want a bra that will provide a smooth profile under tees.
Sports bras are designed specifically for exercise, containing more structure to support breasts during low to high impact activity.
Flexi-wire bras are ideal for women who are looking for great shape and extra lift.
Learn more about the best bra for your stage of pregnancy.
Fit Troubleshooting
Feeling less than happy with your fit?
Using your current bra size and any fit symptoms you have, we'll figure out the best size for you.