What is a baby shower?
A Baby Shower is a party or celebration held in honor of new mum-to-be. It is generally later on in the pregnancy.
Why is it called a baby shower?
It is called a baby shower because the mum-to-be is showered with gifts for Mum and baby.
Am I expected to have a baby shower?
Baby Showers whilst common are not essential. A lot of women will have a baby shower for their first-born but may not have one for their other pregnancies. It's a great time for the girls to catch up.
Who hosts a baby shower?
Traditionally a close friend or distant family member hosts a Baby Shower. As a general rule family members do not host the shower as it could be deemed as a gift grabbing exercise.
Planning a baby shower
1. When should it be held
Generally baby showers are held later in the pregnancy during approx. the 8th month.
2. Who should be invited
Only women traditionally attend baby showers. However, we live in a modern world and anything goes now.
Family members, close friends and work colleagues are usually a high priority and will be on the invite list.
Send your invites out at least one month in advance. This way people can safely lock away the date and RSVP, leaving plenty of time for organization.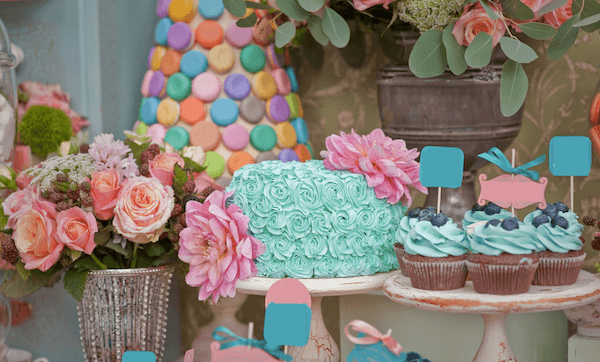 3. Budget
Baby Showers can be as simple or as elaborate as you would like.
How much you spend on your baby shower is completely up to you as there is no hard and fast rule.
Baby Shower on a Budget:
Pick a location that will not cost you a cent.
Having the baby shower at home, in a garden or at the beach are all beautiful ideas and can be just as magical as party environment.
Simple homemade decorations and food can be made with the help of friends and family.
I.e. Sandwiches, cupcakes, fresh strawberries, and homemade punch are all lovely ways to create a simple spread on a budget.
Decorations such as hand picked flowers, balloons, bunting flags, fairy lights, blankets, picnic baskets, table clothes to dress outdoor furniture are all wonderful ways to enhance an outdoor environment.
If Money is no object:
An events planner might be an option. An events planner will help to make your vision a reality. The food, location and decorations will all be taken care of and it is only your budget that will determine limitations.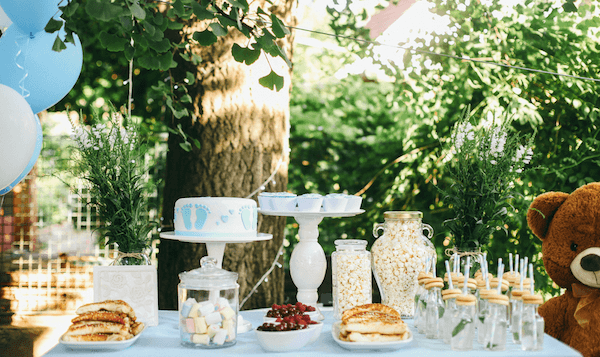 Themes
The color scheme is usually dictated by the sex of the unborn baby. Should the sex of the baby not be known then a gender-neutral based color scheme could be selected.
Possible themes might include: High Tea, Alice in wonderland, Animals, Picnic, Baby Theme, Boho, Ready to pop, Carnival, Mermaid, Bright fun colours, modern and simplistic, Nursery Rhymes, B+W, Peter Rabbit, Rubber Duckies, Princess, Balloon, Garden, Enchanted Forests, Teddy Beer, circus, Hollywood, Candy bar, Cake, Country theme.
Most Baby showers will include games, however, should you not be this way inclined it is not a deal breaker.
Playful games you might like to include in the shower are: Don't say the word 'baby', Guess the mother-to-be's measurements, Guess what is in the diaper bag, Taste and guess the baby food, Drink beverages from baby bottles and Diaper Derby.
There are many more games and are only limited to your imagination.
The basic concept behind a baby shower is to have fun and to celebrate the pending arrival of the unborn child.
Don't take it too seriously and treat it like you would attend a party.
Surround yourself with warm loving people, who are important to you.
LIKE WHAT YOU READ?
Join CakeMama Club & get 10% OFF your first order!
Plus you'll get tips + tricks for pregnancy, postpartum & breastfeeding, get member-only offers, earn CakeCoins every time you shop + more. Learn more